CURRENT AFFAIRS & CASES
Current company information at a glance.
In this overview we keep you informed about our current projects, activities and more.
Merchandising in sports - sustainability as an opportunity for the Bundesliga
Mittwoch, August 9, 2023
Sustainability in the production and distribution of goods is gaining importance across various industries. In the world of sports, and specifically in merchandising, this issue is becoming increasingly relevant. "Merchandising plays a prominent role for soccer clubs today, as it contributes to brand strengthening, increased fan identification and better visibility of the club. These factors promote the retention and acquisition of fans, sponsors and employees, and thus contribute significantly to the financial stability of the club," says Prof. Dr. Andreas Fürst, holder of the Chair of Marketing at Friedrich-Alexander-University Erlangen-Nuremberg. A recent survey among over 7.200 registered Bundesliga fans sheds new light on the willingness to pay more for sustainable products. The results of the study, excerpted below, should inspire clubs, service providers and fans alike.
Are Fans Willing to Pay More?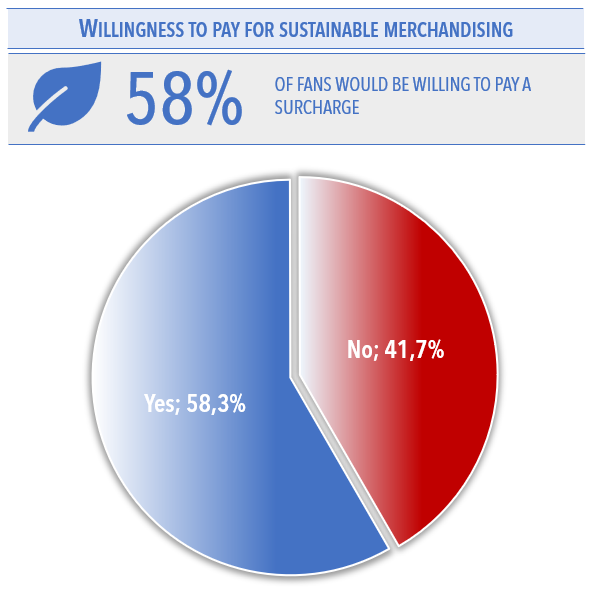 When asked if they would generally be willing to pay more for more sustainable products, 58.3% of the surveyed fans answered affirmatively. This majority is a significant potential that Bundesliga clubs should pay attention to. However, with 40% of respondents not willing to pay a premium, this factor must also be considered. The challenge is to appeal to both those who value sustainability and those who are more price-conscious.
How Much More Are Fans Willing to Pay?
Interestingly and importantly, 58.9% of the respondents who would spend more (58.3%) indicated that they are willing to pay 6% to 10% more than before for sustainable products. An additional 23.5% would even pay 11% to 15% more if the products were more sustainable. In the 2021/22 season, the Bundesliga clubs earned approximately €174 million (Statista) through merchandising. If the potential of the 58.3% could be utilized at least in a first stage extrapolated to the Bundesliga enthusiasts, this could result in an increase in merchandising revenues to approximately €190 million. "In the field of merchandising, sustainability can and must - with such results as a basis - be considered as a significant influencing factor on future economic considerations. Thus, with the ecological component of sustainability, one can also simultaneously cover the economic as well as social/societal component," says Maximilian Madeja, Managing Director of SLC Management and lecturer at the University of Applied Management.

What Matters Most to Fans?
In addition to the willingness to pay more, the survey also identified the criteria most important to fans. Quality (1.38) and price-performance ratio (1.54) are at the top, followed by design (1.66) and selection options (1.85). Sustainable materials (2.42) and certificates/labels (2.62) are found in the last places but are still considered important. Dr. Alfons Madeja, Professor of Business Administration and Sports Management, scientific supervisor @ SLC: "It is important to constantly monitor the development of importance from the fan and customer point of view, because this is where the changes will be reflected by corresponding initiatives and developments of the providers."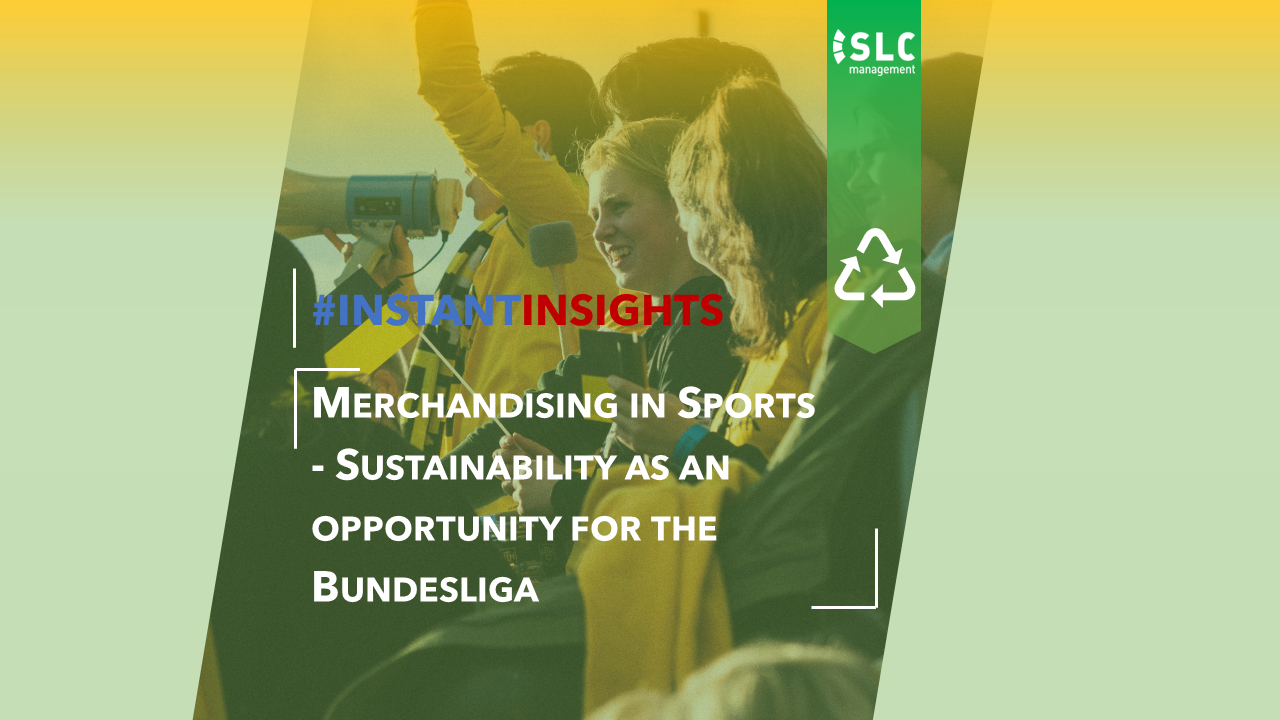 Conclusion: An Opportunity, but with Caution
The results of the study clearly show that sustainability in sports merchandising is a growing issue. Many fans are willing to pay more for environmentally friendly products, and the clubs could benefit from this.
However, this trend should be approached with caution, as quality, price, and design remain the deciding factors for most fans. A smart strategy that combines these aspects with increased sustainability could pave the way for a greener and more profitable future for sports.
Key data of the survey data of the study
Type of sport: soccer
Panel: Bundesliga fans with registered participants from all clubs/associations
n: 7.236
Representativeness: Bundesliga
---
For more information please contact:
Jens Jaschinski

Director Consultancy

Fon: +49 (0) 911 - 54 81 830
Extract of our references.